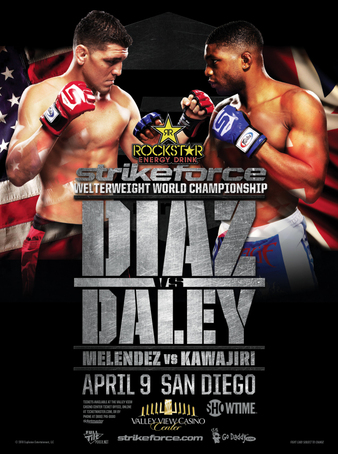 Tomorrow evening in San Diego, the Strikeforce Welterweight and Lightweight titles will be on the line as a part of a nine fight card, the last four of which will be shown live on the Showtime network. 
Main Event – Nick Diaz (c) vs. Paul Daley – Strikeforce Welterweight Championship 
In a matchup that is guaranteed to produce fireworks, Strikeforce Welterweight Champion Nick Diaz will look to make another successful defense of his title against lethal British knockout artist Paul "Semtex" Daley. 
Champion Nick Diaz is currently enjoying an impressive eight fight winning streak.  A Cesar Gracie black belt, Diaz has shown his impressive submission game in many of his fights.  Whether it is submissions, positional advances/transitions or submission defense, Diaz is as slick as it gets once the fight hits the ground.  However, in addition to his submission skills, Diaz has become known for putting on classic striking battles, as he engages in all-out wars with his opponents.  Lacking knockout power, Diaz, who competes in triathlons when he is not in a training camp, uses his remarkable cardiovascular conditioning to outwork his opponents.  Blessed with a granite chin, Diaz is rarely fazed and after a round or two, the torrid pace he sets appears to overwhelm his opponents who simply wilt under his constant pressure. 
Whereas Diaz chips away at his opponents with consistent pelting shots, the aptly nicknamed "Semtex" Daley possesses the rare ability to end the fight on a moment's notice with one swing.  The bullying Brit coming out of the vaunted "rough house" camp is known as one of the most dangerous strikers in the entire sport.  However, unlike Diaz, Daley does not possess the same well-rounded skills.  In fights with superior wrestlers such as Jake Shields and Josh Koscheck, Daley's striking was nullified as he was placed on his back, where Daley does not possess much of a submission game. 
This is a very difficult fight to assess.  Daley has the ability to end the fight on a moment's notice, but if Diaz is able to drag Daley down, he more likely than not will be able to end the fight via submission.  Additionally, with Diaz's chin and constant pressuring, Diaz may be able to wear down Daley over the course of the five rounds.  In the end, I'm reminded of two different Daley fights that help me make a pick for this fight.  First, in Daley's fight with Jake Shields, Daley did manage to stuff most of Shields' takedowns in the first round of their fight.  Unlike Shields, Diaz has had difficulty getting smaller fighters like KJ Noons down, and that leads me to believe he will have trouble with the larger and more athletic Daley.  Second, in Daley's fight against Duane Ludwig, Ludwig managed to engage Daley for several rounds causing Daley to throw many punches.  It did not appear that Daley gassed out during that fight.  As a result, I am going to go with the upset here and predict Daley ends the fight with a 2nd or 3rd round knockout.  If the fight gets into the 4th or 5th rounds, I believe Diaz will win, but I have a suspicion it just won't last that long. 
Fight Prediction:  Paul Daley via 2nd round KO. 
Co-Main Event – Gilbert "El Nino" Melendez vs. Tatsuya Kawajiri – Strikeforce Lightweight Championship 
The co-main event of the evening features a rematch between Strikeforce Lightweight Champion Gilbert Melendez and Tatsuya Kawajiri.  The two talented lightweight fighters first competed in 2006 on the annual Pride Shockwave card.  In that fight, it was Melendez who eked out a razor thin decision against the home crowd favorite in a highly entertaining affair.  The fight featured back and forth action with both fighters enjoying periods of success.  Even more impressive was the incredible pace at which the fight progressed.  It was one of those fights that truly makes even the spectators tired. 
Gilbert "El Nino" Melendez comes out of the Cesar Gracie camp along with the Diaz brothers and Jake Shields.  Though originally a wrestler, the Strikeforce Lightweight Champion epitomizes what the sport of mixed martial arts has grown to become.  Melendez is able to succeed in any facet of a fight and as a result, Melendez has the ability to push forward at a breakneck pace since he has no fear of being taken down (assuming someone has the rare ability to take him down) or being knocked out.  Melendez's style has made him a crowd favorite, and he is widely viewed as among the top 5 lightweights in the world.  Though the MMA community is still waiting to see him go up against the top fighters in the UFC (or Eddie Alvarez in Bellator), a second win over Kawajiri will certainly cement his status as a top fighter. 
Tatsuya Kawajiri is another well-rounded fighter who enjoyed great success while competing in his homeland of Japan.  First making a name for himself in the legendary Shooto promotion, Kawajiri made the successful transition to the Pride organization where he became one of the top lightweight fighters and put on legendary battles in Pride's Bushido series.  Like Melendez, Kawajiri operates at full throttle for practically the entire fight.  Whereas Melendez typically relies upon speed, Kawajiri often times attempts to outmuscle his opponents, as he is an incredibly powerful man. 
Look for another highly competitive and fast-paced bout.  Ultimately, I believe Melendez's speed and wrestling ability, coupled with his reach will help secure his second victory over Kawajiri. 
Fight prediction:  Gilbert Melendez via unanimous decision. 
Shinya Aoki vs. Lyle Beerbohm 
In another lightweight bout, Strikeforce product Lyle Beerbohm looks to rebound from his first career loss to Pat Healy against one of the most feared submission specialist's in all of MMA, Shinya Aoki. 
Lyle "Fancy Pants" Beerbohm is a highly skilled wrestler that caught the attention of MMA fans with an impressive victory over formerly ranked Vitor "Shaolin" Ribero.  Having not yet developed his striking game to a level that threatens to end fights, Beerbohm relies upon his relentless wrestling attack to dictate the pace of the fights.  Though he inflicts some damage from the top, Beerbohm's specialty is gaining positional advantage against his opponents in order to impress the judges. 
Unlike merely attempting to secure positional advantage, Shinya Aoki is constantly looking for submissions, and more often than not, is able to get them.  Whether securing a takedown or pulling guard, Aoki is very much like a Venus Fly Trap who catches his prey and never lets go.  Submitting many of the top lightweight fighters of the world, including Joachim Hansen, Tatsuya Kawajiri and Eddie Alvarez, Aoki will gladly welcome any takedown attempts that Beerbohm may attempt. 
Though Beerbohm certainly possesses the wrestling acumen to keep the fight standing and avoid Aoki's submissions, I don't believe his striking is any further advanced than Aoki's.  In the end, I think Aoki is simply too skilled a submission specialist to go three rounds without submitting "fancy pants." 
Fight prediction:  Shinya Aoki via 1st round submission. 
Gegard Mousasi vs. Keith Jardine 
Former Strikeforce Light-heavyweight champion Gegard Mousasi will look to positional himself for another title shot as he takes on former UFC light-heavyweight contender Keith "the Dean of Mean" Jardine. 
Making a name for himself competing in the Dream Promotion in Japan, Mousasi came to the United States sporting an impressive resume of knockouts and submissions.  In his first stateside contest, Mousasi seemed to only add on to this rapidly growing reputation, knocking out the always-game Renato "Babalu" Sobral to win the Strikeforce Belt in under two minutes.  However, the Mousasi hype train came to a screeching halt after a lethargic decision loss to Muhammad "King Mo" Lawal in a fight where Mousasi gave up numerous takedowns.  The King Mo fight aside, Mousasi is one of the top light-heavyweights in the world, possessing lethal striking and very dangerous submissions. 
Stepping in on two weeks notice after Mike Kyle was forced to pull out of the fight with a broken hand, Keith Jardine looks to recapture the magic that propelled him to victories over Chuck Liddell and Forrest Griffin while in the UFC.  Formerly out of Greg Jackson MMA, Jardine employs an incredibly awkward striking style.  With the weird angles from which he throws punches and moves about the cage, Jardine is able to set up his strikes and feared leg kicks.  However, though he has impressive striking, Jardine's Achilles heel is his striking defense.  Whether due to lazy head movement or the inability to keep his hands up, Jardine has fallen victim to several knockouts as a result of his poor striking defense. 
With Jardine not being one to take a fight to the ground, I believe that this will essentially turn into a kickboxing match which would favor Mousasi.  Though Jardine's style and striking ability may potentially make this a competitive bout, Mousasi's accurate and lethal striking should result in a knockout victory at some point in the fight. 
Fight prediction:  Gegard Mousasi via 2nd round TKO.