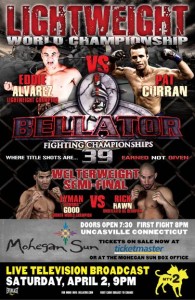 Saturday evening Bellator's 39th promotion offered fans a night of exciting fights.  After a night of upsets, high-flying knockouts and stiff competition, here are my thoughts on the four main-card bouts. 
Main Event – Eddie Alvarez def. Pat Curran via unanimous decision to retain Bellator Lightweight Championship Battle 
-In what turned out to be mainly a boxing match, promotional superstar and lightweight champion Eddie Alvarez retained his title earning the unanimous decision win.  However, surprising many, including myself, the Philly native was unable to put away Curran within the five rounds.  However, though Alvarez was not able to earn a more definitive victory, Alvarez did display some of the skill-set which makes him one of the world's best lightweights. 
-How good is Alvarez compared to the other top lightweights in the world?  Perhaps more than any other MMA fighter in the world, when watching Alvarez even though you are obviously paying attention to the fight you are watching, in the back of your mind you're evaluating each one of his maneuvers, assessing how he would fare in a hypothetical matchup with some of the other top fighters in the division.  Alvarez appears to have a striking style that is a blend between Dominick Cruz and Frankie Edgar.  Perhaps a touch slower than Edgar, Alvarez utilizes angles more so like Cruz does in his fights.  Further, Alvarez would appear to possess more power than Edgar.  However, of Edgar, Gray Maynard, Jim Miller, Anthony Pettis and Gilbert Melendez, I would rate Alvarez's takedown offense only in front of Pettis'.  Either way, he is tough as nails, and a fight between any of those top lightweight fighters would be a highly entertaining contest. 
-Kudos should also be given to Pat Curran, as the youngster delivered a very respectable performance, hanging in with a fighter of Alvarez's caliber for five rounds.  Curran displayed remarkable takedown defense, and at times successfully landed good counter shots that would momentarily fluster the champion.  I would love to see Curran take on the winner of this season's lightweight tournament as well as see him in the UFC in the near future. 
Rich Hawn def. Lyman Good via split decision 
-As predicted, Rich Hawn was able to earn the decision victory over Lyman Good.  Ultimately, Hawn's ability to utilize his Olympic-caliber judo skills enabled him to earn the decision victory over the former Bellator Welterweight Champion. 
-In order to win the welterweight tournament, Hawn will need to sharpen his striking, as he is becoming too predictable in his movements.  When coming in for a jab, Hawn ducks his head, which leaves him open for uppercuts. 
-Though Good is obviously disappointed in his performance, I believe he has enough talent and physical tools to be a successful welterweight fighter.  However, while he might enjoy his status as the premiere fighter out of "Tiger Schulman's Mixed Martial Arts," I believe it would behoove Good to seek a more grappling oriented camp that would help him avoid the takedowns or at least teach him how to scramble to get the fight back to his feet after being taken down.  If he does so, Good will be a dangerous fighter. 
Patricky "Pit Bull" Friere def. Toby Imada via 1st round TKO 
-If his quarterfinal round knockout of former WEC Lightweight Champion Rob McCullough did not successfully announce Friere's presence as a legitimate threat in the lightweight division, Friere's thrilling performance against Toby Imada surely did.  After an initial feeling out process Patricky unleashed a violent and explosive flying knee that landed flush on Imada's chin, wobbling the submission specialist.  Recognizing his opponent was on rubber legs, Patricky went in for the kill, landing a punishing left hand that knocked Imada out.  A video of the knee and subsequent knockout can be seen below.
-This win would appear to put Patricky in the driver's seat of the lightweight tournament, as he will be the heavy favorite over either of the other two semi-finalists scheduled to meet next week.  With his knockout power in both his hands and legs, combined with his vaunted submission game, Patricky looks to be the real deal and could be a future worthy opponent for Alvarez. 
Ben Saunders def. Matt Lee via doctor's stoppage in the 3rd round 
-UFC veteran Ben Saunders made good on his promise to make a successful promotional debut, as he soundly defeated veteran Matt Lee in a bloody affair.  After enjoying success with his superior reach, Saunders unleashed his dangerous Muay Thai skills from the clinch, breaking his opponent's nose and opening up cuts on both of his opponent's eyes. 
-With all due respect to Lee who is an incredibly tough competitor, I'm not sure how much we can gauge from Saunders performance.  Lee was a tailor-made opponent for Saunders, as he had no intention on taking the fight to the ground.  With the welterweight champion being elite-wrestler Ben Askren, I don't see how Saunders will ever be able to win the Bellator Welterweight Championship.