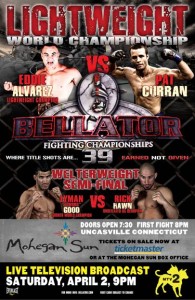 Later this evening Bellator will present its 39th event from the Mohegan Sun Arena in Uncasville, CT. The card features the promotion's top fighter in a lightweight championship belt, two semi-final tournament matches and the debut of a former UFC welterweight contender.
Main Event – Eddie Alvarez (c) vs. Pat Curran – Bellator Lightweight Championship
The main event of the evening will be for the Bellator Lightweight Championship as the top fighter in the promotion, Eddie Alvarez, looks to defend his belt against the fast rising Curran.
The ferocious Alvarez, fighting out of "the great fighting city" of Philadelphia, is viewed as one of the top 5 lightweights in the world. Defeating top-ranked fighters such as Tatsuya Kawajiri and Joachim Hansen, Alvarez is an exciting fighter with a special blend of top-notch boxing and first-class wrestling. Since joining the Bellator promotion, Alvarez has steamrolled through the competition en route to becoming the lightweight champion. In his most recent bout, Alvarez destroyed former UFC lightweight contender Roger Huerta, becoming the first man to finish "El Matador".
Pat Curran, the younger cousin of MMA veteran Jeff Curran, has blossomed into a fine competitor in the lightweight division. Absorbing the teachings of his talented cousin, Curran is a dangerous submission fighter who is more than capable on his feet, and displays tremendous heart. Curran earned this title shot after defeating both Roger Huerta and Toby Imada by decision.
While Curran is without question a talented up-and-coming lightweight, I believe Eddie Alvarez is simply too talented and aggressive for Curran. Curran will certainly display his talents, but Alvarez will be the victor.
Fight prediction: Eddie Alvarez by 3rd round TKO.
Welterweight Semi-Final – Lyman Good vs. Rich Hawn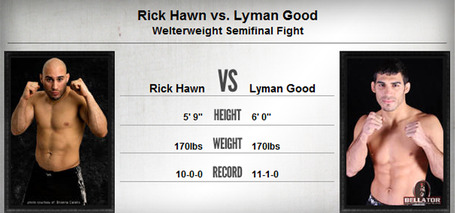 Former Bellator Welterweight Champion Lyman "Cyborg" Good looks to continue his quest for redemption as he takes on top-flight Judoka Rick Hawn in a semi-final matchup of this season's welterweight tournament.
Good, who lost his title to current champion Ben Askren, is an incredibly well-rounded fighter who displays true grit and impressive athleticism. In his loss to Askren, Good's lack of takedown defense was exploited. Hawn, an Olympic level Judoka will surely look to replicate Askren's takedown success. However, should Good withstand Hawn's judo prowess, I believe Hawn may surprise Good with his adeptness on his feet as Hawn displayed both good technique and solid power in his quarterfinal match earlier this season. Look for Hawn to take the surprise decision.
Fight prediction: Rich Hawn via unanimous decision.
Lightweight Semi-Final – Toby Imada vs. Patricky "Pitbull" Friere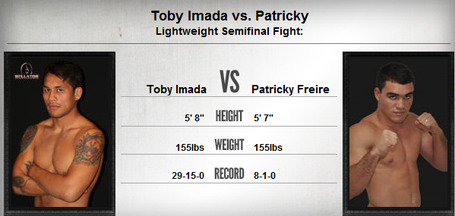 In a lightweight semi-final bout, former finalist Toby Imada looks to once again earn a spot in the finals of the lightweight tournament. In order to do so, the savvy submission specialist will have to defeat the incredibly talented and dangerous Patricky Friere.
Imada, a slick jiu-jitsu practitioner owns one of the two most impressive submissions ever in the history of both the Bellator promotion and perhaps MMA when he defeated Jorge Masvidal in the 2009 tournament via inverted triangle choke (video shown below). While Imada's stand-up game is not as dangerous, he is willing to trade blows and exhibits aggressiveness and a good chin.
Imada will surely need to deliver a top performance as he takes on the uber-talented Patricky Friere. Friere, whose brother is competing in this season's featherweight tournament, is a BJJ black-belt who also possesses devastating power in his punches. In the quarterfinals, Friere delivered a masterful performance against former WEC Lightweight Champion "Razor" Rob McCullough, knocking the veteran out in the third round.
In the end, I believe Friere's skill-set is simply too strong and vast for Imada to overcome.
Fight prediction: Patricky Friere via unanimous decision.
Welterweight bout – Ben Saunders vs. Matt Lee
Former UFC welterweight contender and "Ultimate Fighter" alumnus Ben Saunders will look to make his promotional debut a memorable one as he takes on welterweight veteran Matt Lee.
Saunders, a dangerous striker out of American Top Team, managed to work his way up the steep welterweight ranks in the UFC before falling short against some of the elite of the division including Jon Fitch at UFC 111. Saunders possesses devastating Muay Thai which was evident in his brutal knockout victories of Brandon Wolff and Marcus Davis.
Matt Lee, a journeyman veteran who trains with Jorge Rivera in the "Factory" gym up in Massachusetts has faced many of the top welterweights and lightweights from various promotions. Possessing solid skills and a decent chin, Lee does not possess one particular specialty and instead relies on his tenacity and well-roundedness.
Typically Saunders struggles against fighters that enjoy an advantage in the grappling department. However, such will not be the case in this fight, as Lee does not possess a dangerous grappling game. As a result, look for Saunders to announce his presence in the Bellator welterweight division with authority via knockout.
Fight prediction: Ben Saunders via 2nd round TKO.