Though the primetime matchup for tomorrow evening's double-header is between the Kentucky Wildcats and UCONN Huskies, it is actually the first of the two games that has captured the hearts and minds of the entire sporting nation. 
Whereas Kentucky and UCONN are considered among the elite basketball programs in the nation and compete in the most difficult of conferences (SEC and Big East respectively), the other semi-final matchup of the evening consists of a matchup between the Butler University Bulldogs and the Virginia Commonwealth Rams.  Though both programs are considered among the elite of their respective conferences (Horizon and Colonial Athletic Association), they are still viewed as "mid-major" programs that in the world of recruiting take a back seat to the premiere conferences in the land.  However, both team's success truly defines what makes the NCAA tournament and the game of basketball so special.  On any given day, any team can win.  Further, both squads play tremendous TEAM basketball, where no one single player is greater than the whole.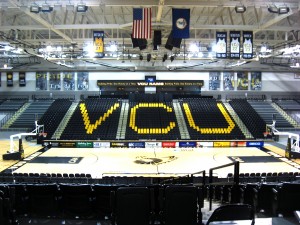 With that being said, I decided to first to highlight VCU's home court:  Verizon Wireless Arena.  The arena, with a capacity of 7,500 (reportedly expandable to 8,000) is the centerpiece of a larger multi-purpose athletic facility that opened in 1999 in downtown Richmond, Virginia, across the street from the campus.  The larger multi-purpose facility, named the Stuart C. Siegel Center, includes several basketball courts, state-of-the-art weight facility and other amenities. 
In the center of the facility lies the Verizon Wireless Arena, which consist of several large bleachers that are easily collapsible in order to create additional space.  When expanded, the bleachers make for a very tight and close-knit atmosphere which has served the program well, as VCU enjoys one of the highest winning percentages on their home-court in Division 1 Men's Basketball.