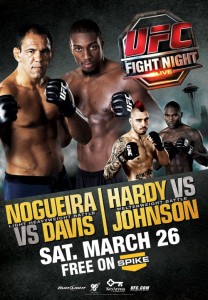 Saturday night, before a rabid crowd of 14,000 fans in Seattle's Key Arena, fighters for the UFC waged battle to determine which fighters are truly legitimate contenders in their respective weight classes.
Main Event – Phil Davis def. Antonio Rogerio Nogueira via unanimous decision.
-In the evening's main event, Phil Davis managed to overcome his most difficult obstacle to date, earning a unanimous decision victory over Antonio Rogerio Nogueira. Managing to out-grapple his opponent, Davis clearly controlled the second and third rounds. However, though this was by far Davis' most notable victory, his performance clearly demonstrated that he is not yet on the level of the elite in the light-heavyweight division. Davis' striking was both awkward and ineffective, and his takedown offense was surprisingly unspectacular, particularly in the first round. However, Davis did indicate that his training camp was marred by several injuries which may have impacted his performance.
-As mentioned above, while I expected Davis to struggle in the standup, I was truly floored watching Davis struggle to secure a takedown against Nogueira. Davis certainly looked to lack a great deal of explosion as he failed to drive through his opponent in order to get the fight to the ground. It was only until Davis switched to a low-single style of takedown that Davis managed to take Nogueira down.
-Though he failed to impress, Davis still deserves to be tested against a top-ranked fighter in the light-heavyweight division. A match against Forrest Griffin would help demonstrate where Davis stands in this always-crowded division. For Nogueira, a rematch from his epic 2005 war with Mauricio "Shogun" Rua would be a great matchup for both Brazilian fighters, perhaps even at the upcoming UFC show in Rio later this summer.
Co-Main Event – Anthony Johnson def. Dan Hardy via unanimous decision.
-Though viewed by many fans as a major disappointment, Anthony Johnson made his return to the UFC by completely dominating Dan Hardy en route to a unanimous decision. After stumbling Hardy with a powerful head kick in the opening round, Johnson relied upon his superior wrestling talents to secure numerous takedowns. With seemingly no answer to Johnson's wrestling abilities, Hardy was relegated to fight the majority of the fight from his back, where though he attempted several submissions, was unable to get the fight back to their feet.
-Certainly the crowd was anticipating an exhilarating stand-up war, but from my perspective, Anthony Johnson should not be faulted in electing to employ a strategy that, though perhaps less exciting, practically guaranteed a victory over a solid opponent. Quite interestingly, many of the same fans who criticize Johnson were the same ones who applauded Georges St. Pierre's efforts in his championship match against Dan Hardy back at UFC 111. During that match, GSP employed an even more conservative approach, practically refusing to engage in any standup battle with the tough Brit, immediately going in for the takedown as soon as Hardy would approach him.
-I would like to see Anthony Johnson take on Diego Sanchez next. Diego's relentless pace and unparalleled fighting spirit will certainly put Johnson's questionable cardio to the test. As for Hardy, a matchup against Martin Kampmann would be highly entertaining.
Amir Sadollah def DaMarques Johnson via 2nd round submission (due to strikes)
-After weathering the initial surge brought on by Johnson, Sadollah was able to take control with his superior technical striking. Johnson, who certainly put on a valiant effort, having taken the fight on only two weeks notice, appeared to have used up his entire gas tank attempting to end the fight in the opening round. By the second round, Johnson was spent and Sadollah was able to improve a vastly improved takedown game. Once on the ground, Sadollah managed to pin Johnson's arm behind his head, causing the Jeremy Horn protégé to be unable to defend Sadollah's strikes. With no way to improve his position, Johnson tapped.
-Should the UFC elect not to make a fight between Hardy and Kampmann, a matchup between Sadollah and Hardy would prove entertaining, as neither fighter is equipped to take the fight to the ground on a consistent basis.
Chan Sung Jung def. Leonard Garcia via 2nd round submission (twister)
-Finishing Leonard Garcia via the twister (first time ever in the history of the UFC), the "Korean Zombie" avenged his disputed loss in their first match last year. Jung displayed his superior and far more well-rounded skills as he was able to hurt Garcia standing, and completely work over Garcia while on the ground. Working with Team Alpha Male and the likes of Urijah Faber, Joseph Benavidez and Chad Mendes, Jung will look to build off this performance as he demonstrates he is a viable contender in the featherweight division, not simply a reckless brawler.
-A match between Jung and Erik Koch, fresh off his impressive knockout performance of Raphael Assuncao at UFC 128 would be a fine match between two up and comers in the featherweight division. Garcia, having one again failed to deliver a winning performance, may have just had his last fight in the promotion. However, based upon Garcia's ability to entertain, the UFC may elect to keep the Greg Jackson product around for one or two more fights for pure entertainment value.