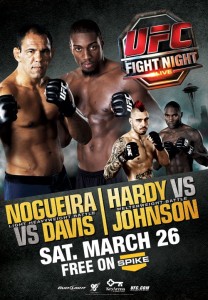 This evening the UFC heads to the Pacific Northwest at the Key Arena in Seattle, Washington for its 24th installment of UFC Fight Night. 
Main Event – Antonio Rogerio Nogueira vs. "Mr. Wonderful" Phil Davis 
Replacing Tito Ortiz, former 197 lb. NCAA Champion "Mr. Wonderful" Phil Davis faces the toughest test in his young career as he takes on Antonio Rogerio Nogueira in a light-heavyweight tilt. 
Often compared to current champion Jon Jones by virtue of their similar appearance and wrestling acumen, Phil Davis has enjoyed great success in his brief stint in the UFC.  With an undefeated record, Davis has exhibited great takedowns and stifling top control once the fight hits the ground.  In his most recent win, a submission victory over Tim Boetsch, Davis also showed off his impressive submission game, forcing "The Barbarian" to tap with a beautiful one-armed kimura. 
While Davis is constantly being compared to Jon Jones, the key difference between the two fighters in my opinion is their striking ability.  Whereas Jon Jones has developed a unique and dangerous Muay Thai and Tae Kwon Do repertoire, Davis' standup is far more remedial.  However, similar to Jones, Davis has exponentially improved in each fight. 
The twin brother of former UFC and Pride Champion Antonio Rodrigo Nogueira, Antonio Rogerio Nogueira is one of the toughest veterans in the light-heavyweight division.  Blessed with tremendous heart and submission skills, Nogueira has been apart of some of the most memorable fights in the past 7 or 8 years.  In addition to his vaunted jiu-jitsu game, Nogueira is a very proficient striker, as can be seen in his devastating knockout victory over Luiz Cane.  Typically, Nogueira relies upon his striking and jiu-jitsu skills to overcome any obstacles he may find in the cage.  Lacking a top wrestling game, Nogueira is highly proficient in sweeping his opponent once the fight hits the ground in order to gain positional advantage.  This practice was perhaps most evident in his fight with Jason Brilz.  After being taken down numerous times, Nogueira would effortlessly sweep his opponent in order to gain top control. 
In the end, I believe due to Davis' elite wrestling, I believe Nogueira's best chance to win the fight will be when both opponents are on their feet.  Unlike a Jason Brilz, if Nogueira is unable to finish the fight standing, I believe this fight will mirror that of Nogueira's most recent contest, a decision loss to another top-notch wrester, Ryan Bader.  Davis will have the ability to get the fight to the ground at any time, and with his stifling top control, will nullify any sweeps Nogueira attempts to use. 
Fight prediction:  Phil Davis via unanimous decision. 
Co-main event:  Dan "The Outlaw" Hardy vs. Anthony "Rumble" Johnson 
The co-main event of the evening features two of the more dangerous strikers in the UFC's welterweight division:  Dan Hardy and Anthony Johnson.  Both fighters possess highlight reel knockouts on their resume and are certainly considered among the upper echelon of fighters in their weight class. 
After losing to Georges St. Pierre at UFC 111, the ever-dangerous Hardy suffered his first knockout loss to Carlos Condit at UFC 120.  As Hardy himself would explain, his aggressive style left him open for a left hook which unfortunately connected, resulting in the stoppage.  However, most people often forget that while Condit's hook managed to land first, Hardy had thrown a left hook of his own that was a mere millisecond away from landing.  Had his hook been the first to connect, he would have knocked Condit out in a similar fashion to the way in which he himself was knocked out. 
Training in the vaunted "Rough House" gym out of the UK, Hardy is a dangerous striker, possessing great boxing skills.  As appears to be the problem with most UK fighters, Hardy lacks a proficient wrestling game, which was clearly on display in his title match against GSP at UFC 111.  However, in that same fight, Hardy exhibited unbelievable heart, as he was nearly submitted on several occasions and managed to hold on in what must have been excruciatingly painful conditions. 
Similar to Dan Hardy, Anthony Johnson is a lethal striker who has sent several fighters into a highly concussed state.  Employing more of a traditional kickboxing style, Johnson hones his skills with Josh Thompson and Cung Le in San Jose, California.  Johnson is perhaps the biggest of all the UFC welterweights, typically walking around weighing somewhere around 220 lbs.  As such, he is often faced with cutting nearly 50 lbs in order to make the welterweight divisional weight limit.  Several times, Johnson has been unable to accomplish this task, prompting many to call for him to move up to the middleweight division where he can continue to add bulk and not endure as hard of a weight cut. 
Whereas Hardy is a fairly one-dimensional fighter that relies on his striking, Anthony Johnson does possess a very impressive wrestling game.  However, in the interviews leading up to this fight, both fighters have indicated that they will not attempt to get this fight to the ground and instead will rely upon their striking to dictate the outcome of the fight.  This is about as close to a pick 'em fight as you can get.  Johnson is the stronger fighter, while Hardy may be the more technical.  Also, another factor in the fight may be Johnson's long layoff as he has not fought since November 2009. 
Fight prediction:  Anthony Johnson via 2nd round TKO. 
Amir Sadollah vs. DaMarques Johnson 
In a battle between one Ultimate Fighter winner and one Ultimate Fighter runner-up, Amir Sadollah and DaMarques Johnson look to continue their ascension in the welterweight division. 
Both fighters are above-average strikers who lack legitimate knockout power, yet still manage to land impressive combinations against their opponents.  Though neither fighter has great wrestling, I would probably give the edge in the submission game to Sadollah, whereas Johnson is the more athletic of the two and thus has the edge in quickness. 
Ultimately, I believe Sadollah's time training at Xtreme Couture will serve him well, as it may have taught him some rudimentary wrestling that will be needed in order to secure the win in this fight. 
Fight prediction:  Amir Sadollah via unanimous decision. 
Leonard Garcia vs. "The Korean Zombie" Chan Sung Jung
In a rematch of the 2009 fight of the year, Leonard Garcia will once again lock horns with "The Korean Zombie" Chan Sung Jung.  Their first encounter came on the WEC's first and only pay-per-view card.  In that fight, the always wild Garcia finally appeared to meet his match when he came up against Jung.  The two proceeded to engage in an all-out war for fifteen minutes.  Though far from technical, the fight was an absolute brawl, with both fighters inflicting a great deal of punishment.  Highlights of their first fight are below. 
Jung has recently been quoted as saying that he will no longer rely on a reckless standup game and will instead look to employ a more well-rounded approach in future fights.  As such, the outcome of this fight could very well be determined by the manner in which Jung elects to fight.  Either way, though Garcia is known for his reckless style himself, he does possess a proficient grappling game.  Additionally, since their epic war, Jung has been knocked out by George Roop, leading me to believe that of the two fighters in this bout, Jung's chin is the weaker. 
Fight prediction:  Leonard Garcia via 3rd Round TKO.
Rest of the Card
Alex Caceres vs. Mackens Semerzier - Mackens Semerzier via 3rd round TKO.
Jon Madsen vs. Mike Russow - Jon Madsen via unanimous decision.
John Hathaway vs. Kris McCray - John Hathaway via unanimous decision.
Michael McDonald vs. Edwin Figueroa - Michael McDonald via 2nd round TKO.
Sean McCorkle vs. Christian Morecraft - Sean McCorkle via 2nd round submission.
Johny Hendricks vs. TJ Waldburger - Johny Hendricks via unanimous decision.
Mario Miranda vs. Aaron Simpson - Aaron Simpson via unanimous decision.
Waylon Lowe vs. Nik Lentz - Waylon Lowe via split decision.