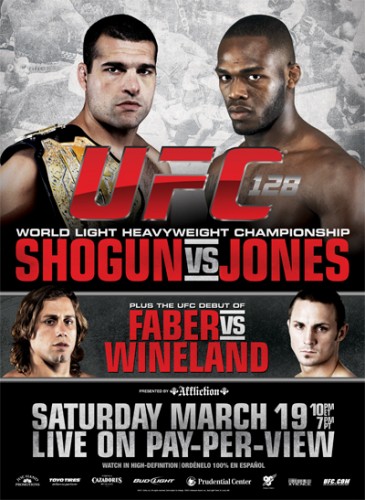 Last night the UFC provided the sold out Prudential Center and its pay-per-view audience with a fairly entertaining show from top to bottom which featured the crowning of a new light-heavyweight champion and the successful promotional debut of one of the top fighters from the newly created weight classes (featherweight and bantamweight). 
I am also happy to report that having attended the event live, my seats were quite good, in fact they were better than the seats I had for last year's UFC event at the Prudential Center.  That combined with good parking and great company made the event a very enjoyable one.  Below is a picture showing the view from our seats. 
Jon Jones def. Mauricio "Shogun" Rua via 3rd round TKO
-As Mike Goldberg typically announces after a fighter wins one of the UFC championships . . . "Let the Jon Jones era begin!"  Jones simply outclassed and overwhelmed Shogun en route to becoming the youngest champion (23 yrs old) in the history of the UFC.
-As predicted, Shogun had no answer for Jones takedowns.  Immediately to begin the fight, after attempting a jaw-dropping flying knee, Jones was able to slam Shogun to the mat in impressive fashion.  Jones was able to effortlessly land takedowns for the rest of the fight.
-Beyond simply being able to take Shogun down at will, perhaps the more telling aspect of the fight was Jones' ability to control from the top and completely nullify Shogun's jiu-jitsu.  Several times you could see Shogun attempt to grab Jones' leg in an attempt to sweep, however, each time, Jones simply sprawled in order to negate those attempts and maintain top control.  Not only did Jones maintain top control, he was able to land punishing blows via thunderous ground and pound.
-Foolishly, Shogun attempted to drop to the ground in order to facilitate either a knee bar or heel hook on several occasions.  Shogun must have thought that Jones was susceptible to this type of submission, however, on each occasion, Jones quickly would scramble to end up in Shogun's full guard where he was able to ground and pound his opponent.
-By the end of the first round, Shogun was completely spent.  Whether it was based upon cage rust due to his layoff, blows absorbed to the body, or simply Jones' immense pressure in the opening stanza, Shogun was simply not the same after he was able to get to his feet by the end of the first round.
-During the moments that the two competitors were standing, it was quite clear that Shogun had no answer for Jones' reach (Jones has the longest reach in the UFC at 84.5").  Shogun was unable to get inside in order to get off clean strikes, and instead had to settle for ending up in the clinch which favored Jones due to his wrestling acumen.
-Two weaknesses that were somewhat apparent in Jones dominating performance were:  (1) Jones does not possess knockout power and (2) Jones himself was fairly gassed by the end of the first round which could signal that he does not have the best of gas tanks.
-With his victory, the UFC already announced that Jones' next opponent will be former training partner Rashad Evans.  Getting back to the beginning of the Jon Jones era, I believe that Jones performance in the Evans fight will truly reveal Jones' staying power as the light-heavyweight champion.  Evans could perhaps negate Jones' wrestling, and he himself is a dangerous striker.  As such, I believe Rashad Evans will be Jones toughest test.
-As impressed as you can be with Jones in becoming the youngest ever UFC Champion yesterday, earlier in the day, Jones managed to track down a car burglar with his two trainers.  After tackling him, his trainers stepped in to pin him down, wanting to protect their fighter from any potential scrapes for later in the evening.  But seriously, vigilante justice and capturing the UFC Light-Heavyweight belt in one day?  Makes you feel like a fairly lazy and unaccomplished person, no? 
Urijah Faber def. Eddie Wineland via unanimous decision
-In an entertaining bantamweight affair, Urijah Faber made his successful promotional debut defeating the game Eddie Wineland via unanimous decision.
-Though some might contend that Faber's performance was subpar, I actually would credit Wineland in making the bout far more competitive than I had originally anticipated.  Wineland displayed a far more advanced wrestling and grappling game then I had expected, and it was the manner in which he took to using wrestling in an aggressive fashion that won him the first round of the fight.
-Once he was able to readjust, Faber displayed the athleticism that has earned him superstardom within the sport of MMA.  Whether it was his fast hands or his beautiful takedown late in the third round to seal the victory, Faber did manage to display all of his tools.
-Not taking anything away from Wineland, I did wonder as I was watching Faber struggle to takedown his opponent, whether the drop to bantamweight actually is not as advantageous as many in the MMA community originally thought.  Perhaps now, Faber does not possess an overwhelming speed advantage, and if he is unable to purely bully his opponent, he may be in for trouble.  However, that remains to be seen, as Wineland, to his credit, was up for the challenge of Faber's wrestling.
-With Faber's win, I believe the UFC, from a business standpoint, should immediately move Faber into the #1 contender position and match him up against current champion Dominick Cruz.  Should Faber have another fight in between and lose, it would discredit him to a certain extent and deflate the momentum gained from Faber's win last night. 
Jim Miller def. Kamal Shalorus via 3rd round TKO
-Save for one successful takedown, Shalorus once again foolishly relied upon a rudimentary standup game to try and defeat one of the top contenders in the lightweight division.  Miller, who clearly possesses knockout power, was able to at first outpoint his stubborn opponent, and later put him away with a nasty uppercut that led to the stoppage.
-This fight truly showcased all of Miller's talents as he was not only dangerous with the standup game, but he managed to takedown Shalorus with an impressive takedown of his own.  Upon getting his opponent to the ground, Miller quickly took his opponent's back and nearly finished the fight in the second round via rear naked choke.
-Having only lost twice in his career and once in the UFC (decision losses to current champion Frankie Edgar and #1 contender Gray Maynard) I believe this performance has vaulted Miller into top contender status.  It would appear Miller will need to wait in line however, as the UFC had originally promised Anthony Pettis a shot at the title, which was temporarily derailed as a result of the Edgar/Maynard II draw in January.  However, I would argue that Miller's resume and ability exceeds that of Pettis and is more deserving of a shot at the lightweight title. 
Nate Marquardt def. Dan Miller via unanimous decision
-Nate Marquardt was able to soundly defeat the always-game Dan Miller via a fairly lethargic unanimous decision.
-Early in the opening round, it was clear that Marquardt enjoyed the advantage in practically every aspect of the game, as he was the stronger, quicker and more technical of the two fighters in the cage.  As a result, Marquardt did open up slightly in the second round with his striking.  However, after being taken down, Marquardt once again reverted to a more conservative approach opting to take the fight to the ground and inflict a decent amount of damage on Miller.
-Though Miller has lost several fights in the promotion, I believe he should be rewarded with at least one more fight before the UFC elects to cut him from the promotion.  Had Miller faced his originally scheduled opponent, Nick Catone, he would have probably been victorious.
-Marquardt demonstrated he still is among the elite in the division, but in doing so, has managed to further alienate himself from the fans as he delivered another fairly boring performance in the cage.  As good of a fighter as he is, the UFC will not want to promote someone who puts the audience to sleep, or in the case of last night, allows for everyone to take a bathroom or food break. 
Brendan Schaub def. Mirko "Cro Cop" Filipovic via 3rd round TKO
-With his most recent knockout loss, Dana White has announced that the legendary Cro Cop has been cut from the UFC, and with that move may have ended the legendary career of the feared Croatian.
-No longer possessing the aggressiveness and speed that made him one of the sport's most lethal strikers, Cro Cop managed to get off very little offense against the former NFL player.
-While Schaub's knockout had everyone in the stands and surely everyone at home yelling, from a macro perspective, I was not overly impressed with Schaub.  Sure, he was bigger and managed to use his size to bully Cro Cop against the cage and to the ground, but for all the hype Schaub brought to the table with regards to his abilities, I was not overly impressed.  In my mind, if Schaub truly was the great up and comer people say he was, he would have been able to take Cro Cop out much earlier in the fight.
-Anytime Cro Cop fights, loyal Croatian fans flock to whichever arena his fight is being held in.  Two rows below where we were sitting were a group of loyal Croats sporting their famed checker-styled soccer jerseys.  As should have been expected, some fairly inebriated moron a row above them and below us, took it upon himself to lead the cheer for Schaub citing his patriotism.  To this day (and perhaps a topic that might be the subject of a future blog post) I fail to see how an American beating a Croat in the sport of MMA in the city of Newark, New Jersey should have any effect on our global standing.  Fortunately, cooler heads prevailed and there was no ethnic strife in Section 5. 
Luiz Cane def. Eliot Marshall via 1st round TKO
-I will come out and say it, this was by far one of the worst picks I have ever made.
-There really is not much to discuss with regards to this fight.  Marshall came in and made several poor attempts to get the fight to the ground.  Once he was unable to do so, Cane moved in for the kill and Marshall used the "turtle" defense and curled into a shell.
-Though he was coming off two disappointing losses, I do believe Cane is still a viable threat in the light-heavyweight division.  Though an unlikely match, I would like to see Cane go up against Rich Franklin.  It would make for a credible UFC Fight Night or UFC on Versus main event.
-Eliot Marshall, having been let go from the UFC once before, was able to put together a string of wins, earning a shot once again in the UFC.  It appears Marshall's standup game is too rudimentary to enjoy any semblance of success at this level.  Perhaps more time in the gym and several more fights in the regional circuit would serve him well. 
Edson Barboza def. Anthony Njokuani via unanimous decision
-In what turned out to be the fight of the night, Edson Barboza defeated Anthony Njokuani in a brilliant and action-packed stand-up war.
-Though Njokuani may have landed with more consistency, Barboza landed the more damaging and noticeable strikes throughout the evening.
-For those that were not tuned into Spike to watch this match, they missed one of the most impressive kicks I have ever seen.  At the end of the match, Barboza landed a spinning heel kick to Njokuani's face.  Similar to Anthony Pettis' circus cage kick, Barboza's kick did not have enough on it to knock Njokuani out, but it surely put an exclamation point on his performance for the judges. 
Mike Pyle def. Ricardo Almeida via unanimous decision
-As much as I am a fan of Almeida, I believe that it might be time for him to once again stop competing and focus on his teaching/coaching.  Almeida has not been able to develop a sound striking or takedown game to compliment his vaunted jiu-jitsu skills.  As a result, whether winning or losing, Almeida is typically involved in fairly lethargic and plodding performances that consist of tie-ups along the cage as Almeida is unable to get the fight to the ground-
-Credit should definitely be given to Pyle for his grappling acumen.  The few times the fight did manage to get to the ground, Pyle was very calm and comfortable, nullifying any of Almeida's positional advancements.
-Having now defeated Ricardo Almeida and Jon Hathaway in consecutive bouts, it is time for Pyle to be given an upper-echelon welterweight fighter.  A match against a Carlos Condit or Martin Kampmann would be a fine litmus test to evaluate Pyle's standing within the welterweight division. 
Gleison Tibau def. Kurt Pellegrino via split decision
-Much to the chagrin of the New Jersey crowd and particularly the sizeable Point Pleasant contingent in the upper deck, local product Kurt Pellegrino lost a split decision battle to American Top Team product Gleison Tibau.
-Ironically enough, I believe the reason for Pellegrino's defeat was the fact that he expended too much energy after nearly knocking Tibau out in the second round and almost submitting the Brazilian.  By the start of the third round, Pellegrino was visibly gassed.  As a result, Tibau was able to secure several takedowns in the final round which may have sealed Pellegrino's fate in the eyes of at least two of the judges. 
Joseph Benavidez def. Ian Loveland via unanimous decision.
-Though Benavidez earned the unanimous decision victory, I was quite impressed with the performance handed in by the "barn owl" Ian Loveland.
-Loveland was able to confuse Benavidez on his feet and held his own for most of the match with regards to wrestling.  Ultimately however, Benavidez's supreme talent and athleticism paved the way for the decision victory.
-As has been discussed in many other MMA sites, Benavidez is in a very difficult position being that he has already lost twice to the current Bantamweight champion, Dominick Cruz, and, being the training partner and close friend of Urijah Faber, may be in a position where he is not given a title shot for quite some time.  However, Benavidez is still among the elite in the division, and the UFC will surely not want to have Benavidez knock off all title contenders. 
Nick Catone def. Constantinos Philippou via unanimous decision
-In a catchweight battle, New Jersey native Nick Catone was able to outmuscle and outwork Serra-Longo product Constantinos Philippou.
-Perhaps second to the Marquardt-Miller tilt, this fight was not incredibly entertaining and consistent mostly of clinching along the cage as both fighters attempted to get the fight to the ground as quickly as possible.  Fortunately for Catone, he was the more adept wrestler, which earned him the decision victory. 
Erik Koch def. Raphael Assuncao via 1st round KO
-In what could be considered somewhat of an upset, Duke Roufus' pupil Erik Koch knocked Raphael Assuncao out in the opening round.
-The knockout came by virtue of a well-timed counter which, though it did not land flush, was able to strike the part of Assuncao's jaw that Joe Rogan has on multiple occasions explained is one of the best spots to ensure your opponent's unconsciousness.
-Both fighters are incredibly skilled and will continue to work their way up the featherweight ladder.